In the dynamic landscape of BFSI, organizations have come to understand the importance of creating a positive work environment. Our latest research report highlights the impact of these practices, revealing that employees in the best workplaces within the BFSI industry report a higher level of involvement and a significantly more positive work environment.
Blurring lines of BFSI
The BFSI industry is transforming, with its new avatar characterized by government support, domestic demand, and technological advancements. In addition, technological progress has enabled consumers to access multiple transaction opportunities within a single platform, blurring the boundaries between various business sectors.
Amidst these changes, one constant aspect is the industry's focus on people-centricity. Recognizing the evolving landscape, employees have become crucial enablers and facilitators in this changing environment.
BFSI Workplace Culture: Employee Gaining Importance
In the past four years, employees in the BFSI industry have reported increased positive workplace experiences. The industry's overall employee satisfaction has risen by 5 points, from 79 to 84, ranking it 5th among other sectors. This improvement can be attributed to work-life balance, competitive compensation packages, and a supportive corporate culture.
The BFSI sector's focus on employee satisfaction attracts top talent, enhances productivity, and strengthens its reputation. However, there is still room for improvement through investments in employee development, feedback mechanisms, and initiatives that foster a sense of belonging and purpose. By adapting to evolving workforce needs, the BFSI industry can sustain its positive and fulfilling work environment for continued growth and success.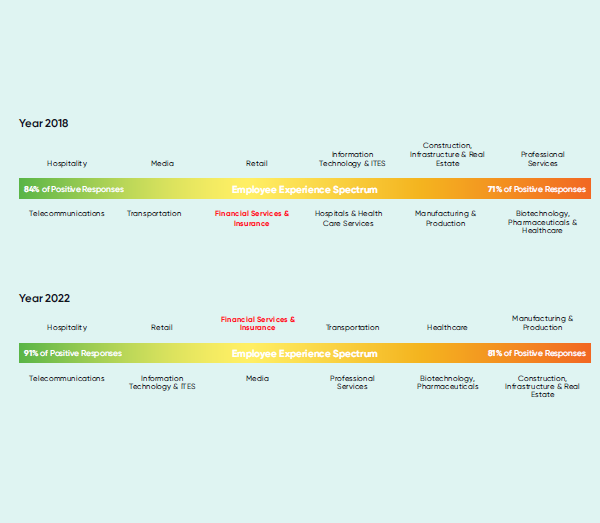 Varied strengths and needs for BFSI verticals
Banking/Credit Companies
This vertical has the highest employee representation within the industry. However, there is a need to prioritize and improve workplace culture to ensure a positive employee experience.
Fintech Companies
Fintech companies are increasingly participating in workplace culture assessments. This indicates a growing recognition of the importance of fostering a positive work environment and addressing the needs and expectations of employees.
Life Insurance
Life insurance companies excel in building a great workplace culture. Their focus on creating a positive and engaging work environment has resulted in a good employee experience within this vertical.
While some verticals within the BFSI industry need to enhance their workplace culture, others have successfully established a positive environment for their employees. By addressing these varying strengths and needs, the BFSI industry can strive towards creating a consistent and satisfying employee experience across all its verticals.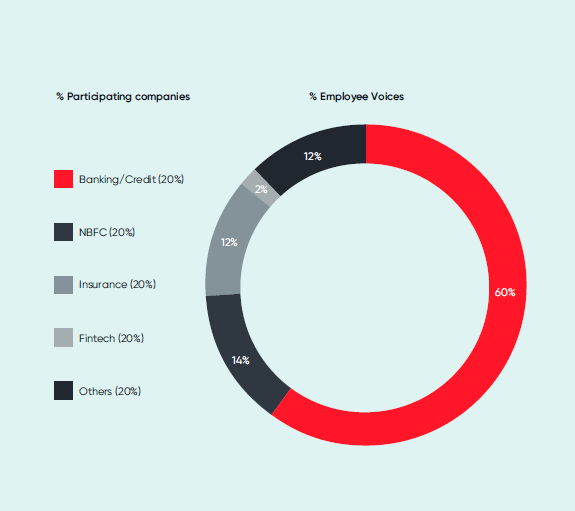 Your guide to developing better practices
Understand the purpose of the current practices
Understanding the purpose of current practices involves identifying the problems they solve and the opportunities they bring. Then, by comparing the circumstances to those addressed by these practices, we can learn from similarities and adapt strategies accordingly.
Have a look at your organizational practices
Consider the available resources and prioritize the challenges that must be addressed first. Then, explore alternative approaches to achieve similar levels of trust, pride, or camaraderie. Finally, develop a tailored implementation plan for your organization's specific needs.
Look into resources that would improve the practice's chance of succeeding
Identify the tangible resources, such as funds and equipment, that can support the implementation of the procedures. Additionally, consider intangible resources like time and proximity that can contribute to the success of the initiatives.
Identify challenges
Identify tangible and intangible challenges to successfully implementing newer or better practices. Evaluate the feasibility of overcoming these challenges in the immediate future. Modify the rules if necessary to ensure successful implementation.
The Mantra of Best Workplaces in BFSI: Equity, Care, and Support
The mantra of Best Workplaces in BFSI is Equity, Care, and Support. These principles will determine future winners in the industry. Key factors include: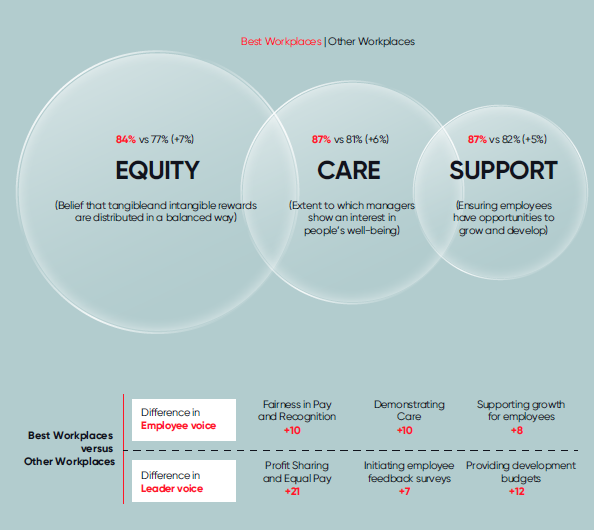 Equity
At Best Workplaces, employees respond significantly higher to Fair Profit Sharing (+11%) and Fair Recognition (+8%) compared to other workplaces. By prioritizing equity, Best Workplaces create an environment where employees feel valued and rewarded, fostering a sense of fairness and motivation.
Caring
Workplace culture aspects that demonstrate care, such as encouraging work-life balance and providing exceptional benefits, are critical differentiators for the Best Workplaces in the BFSI industry. Our studies show that these practices have demonstrated significant positive impacts, with an 8% increase in promoting work-life balance and a remarkable 12% increase in offering unique benefits.
Support
Best Workplaces excel in both supporting professional worth and individual effort 8% more employees at Best Workplaces report positively on being offered training or development and developing managers for leadership positions in the organization.
Equity + Caring + Sharing = Inclusivity
At Best Workplaces, 9% more employees respond positively to management involving everyone in decision-making and believe the workplace is psychologically and emotionally healthy workplace.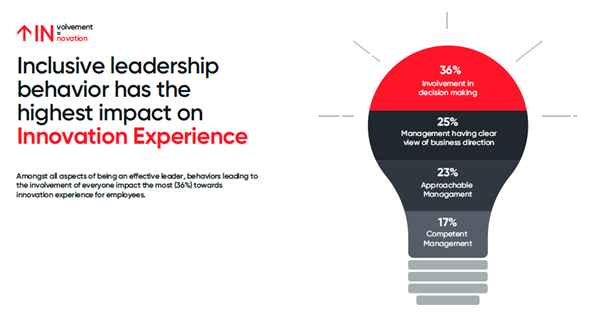 As the industry evolves, the significance of implementing best workplace practices becomes even more apparent as the gap between the Best Workplaces and others continues to grow. By embracing the mantra of equity, care, and support, BFSI organizations can cultivate a culture premium, leading to improved employee satisfaction, enhanced customer experiences, and, ultimately, sustained success in the industry.
To learn more about the different ways the BFSI sector is working on its workplace culture, download our research report here.