Bajaj Finance Limited (BFL), a leading NBFC in India, has cultivated an organizational culture that prioritizes and celebrates employee achievements through its outstanding rewards and recognition policies. In the current year, Bajaj Finance was honoured as one of the three laureates by the Great Place To Work®, denoting its consistent recognition for over a decade. While Fair Compensation is often an area of improvement for many organizations, Bajaj Finance stands out as an exception. Fair compensation is not only a strength for them but also a crucial aspect of their success. However, it is not solely the monetary benefits that contribute to Bajaj Finance's effectiveness; their robust rewards and recognition policy plays a significant role as well. This case study delves into how BFL's commitment to empowering excellence has created a workplace environment where employees feel appreciated, motivated, and driven to achieve remarkable results.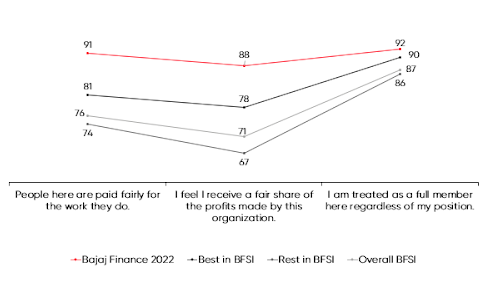 Building Trust in BFL

:
BFL recognizes that trust is the bedrock of enduring relationships, both within the organization and with its employees. By fostering transparent communication channels and actively soliciting employee feedback, BFL ensures that every voice is heard and valued. Initiatives like Pulse Calling provide a platform for employees, regardless of their designation, to present their ideas and concerns, leading to prompt resolution of critical issues.
Integration and Welcoming New Joiners
:
BFL extends its communicative culture to new joiners through a structured connect framework. With daily connections during their initial 15 days and a minimum of two connections per month throughout their first year, new employees feel welcomed and supported. This commitment to integration is reflected in the Trust Index scores, with 93% of employees reporting a positive onboarding experience.
Celebrating the Firsts
:
In their pathway to Success, Bajaj Finance recognizes the immense value of celebrating employees' first milestones, which have played a pivotal role in shaping the organization's journey to success. These significant moments symbolize the growth and progress of employees, fostering a culture of achievement and aspiration.
First Salary Conversation: The first salary conversation holds immense importance at Bajaj Finance. By valuing and acknowledging employees' initial financial milestones, Bajaj Finance instils a sense of pride and motivation, fostering a culture of transparency and trust.
First R&R Conversation: Bajaj Finance places great emphasis on recognizing and rewarding exceptional performance. Managers personally connect with employees during their first recognition and reward (R&R) conversation, to not only honour employees' accomplishments but also to inspire a sense of loyalty and dedication, propelling Bajaj Finance to new heights.
First Promotion Conversation: Bajaj Finance celebrates employees' first promotions through the Auto Promotion and IJP frameworks with great enthusiasm. These celebrations not only recognize individual accomplishments but also ignite within others to strive for excellence, contributing to Bajaj Finance's upward trajectory.
By actively celebrating these pivotal firsts, Bajaj Finance nurtures a culture of growth and achievement. These milestones not only recognize individual successes but also inspire a collective spirit of excellence within the organization. It is through the continuous celebration of these key moments that Bajaj Finance has created a pathway to success, enabling employees to thrive and contribute to the organization's remarkable journey.
Employee Speaks "Rewards & recognitions are part of Bajaj DNA" "The company rewards its employees handsomely. Employees are handsomely rewarded for going the extra mile. Deliveries of the One Web Build project is such an example."
A Culture of Appreciation
:
At the heart of BFL's success lies a strong rewards and recognition framework, which serves as a catalyst for employee satisfaction and engagement. By nurturing a culture of appreciation, BFL ensures that individual and team accomplishments are acknowledged and celebrated regularly, fostering a positive and competitive atmosphere that inspires productivity.
Comprehensive Recognition Framework
:
BFL's recognition framework encompasses a wide range of programs and initiatives designed to honour employees who embody the organization's core values and excel in their respective roles. Spot Awards, Discretionary Awards, Milestone Benefits Awards, Organizational Awards, Group Awards, and Social Recognition are just a few examples of the diverse ways in which BFL recognizes exceptional performance, innovation, execution, customer service, competencies, and loyalty.
"Here people are recognized for their good work and are also rewarded equally by the Company. One of the best parts is that Bajaj Finance Limited always rolls out New and Better Policies to Recognize their Staff for their Good work with various Awards and Rewards."
Acknowledging Excellence at Scale:
BFL's commitment to recognizing excellence is evident in the scale of its awards programs. In the fiscal year of 2023, an impressive 13,000 employees received rewards for their exceptional contributions. Notably, 500 awards were specifically dedicated to innovation, AOP, and LRS initiatives, which were sponsored by the Managing Director. This commitment to recognizing and rewarding outstanding achievements amplifies employee motivation and dedication across the organization.
Rewarding Innovation and Initiative:
BFL places a strong emphasis on fostering innovation and encouraging employees to bring forth their creative ideas. The organization actively seeks to recognize and reward employees who proactively contribute to the organization's growth through their innovative initiatives. The "Making a Difference" program serves as a platform for new employees to share their ideas, receive feedback, and earn appreciation and recognition, instilling a sense of value and belonging from the outset.
Inspiring Success Stories
:
BFL's commitment to recognizing excellence extends beyond individual achievements. Through the Lighthouse Framework, BFL identifies change champions who have successfully embraced the organization's change acceleration framework. These success stories are shared through various internal communication channels, including emails and the OPEN portal, inspiring other employees and fostering a culture of continuous improvement. To date, 750 Lighthouse success stories have been published, driving a sense of collective motivation and fostering a spirit of innovation and adaptability.
Extending Appreciation and Gratitude to Families
:
BFL understands that the support of employees' families is invaluable in their professional journeys. Recognizing this, the organization actively includes families in celebrations and expressions of gratitude, acknowledging their crucial role in enabling employees to give their best efforts at work. By actively addressing work-life conflicts and promoting a harmonious balance, BFL ensures that employees can bring their whole selves to work, resulting in enhanced productivity and engagement.
Conclusion:
Bajaj Finance Limited's exceptional rewards and recognition policies form the backbone of a culture that nurtures and empowers its employees to achieve excellence. By fostering appreciation, recognizing innovation and initiative, and incorporating family inclusion practices, BFL has created a workplace environment that inspires, motivates, and rewards its employees. This commitment to acknowledging and celebrating achievements not only drives individual and team success but also cultivates a vibrant organizational culture that thrives on continuous improvement and exceptional performance.