Skills are the currency of the current multi-generational workforce. To be future-ready, nurturing talent through continuous upskilling and reskilling has become a critical focus for organizations and leaders since that keeps innovation alive and helps organizations to stay ahead of the curve. Learning at GlobalLogic has always been at the core of what they do for employees and therefore has been closely linked to their growth and career progression. There are various programs supporting and creating learning opportunities for employees across levels – including Learning Forums, Conclaves, Communities, Coaching interventions, Academies, Certifications, On the Job Learning and numerous cultural interventions that continuously help our employees towards their growth.
The cornerstone of GlobalLogic's culture is the focus on developing people manager capabilities, as they are the flag bearers of the company's open, inclusive, and flexible workplace culture. At GlobalLogic, the goal is to develop managers not only for a better performance on their present job but to lead the organization and get ready for the next level assignments.
To provide a steady and healthy talent pipeline, GlobalLogic has created programs that help them achieve these objectives. This is done through a series of Management Development Programs: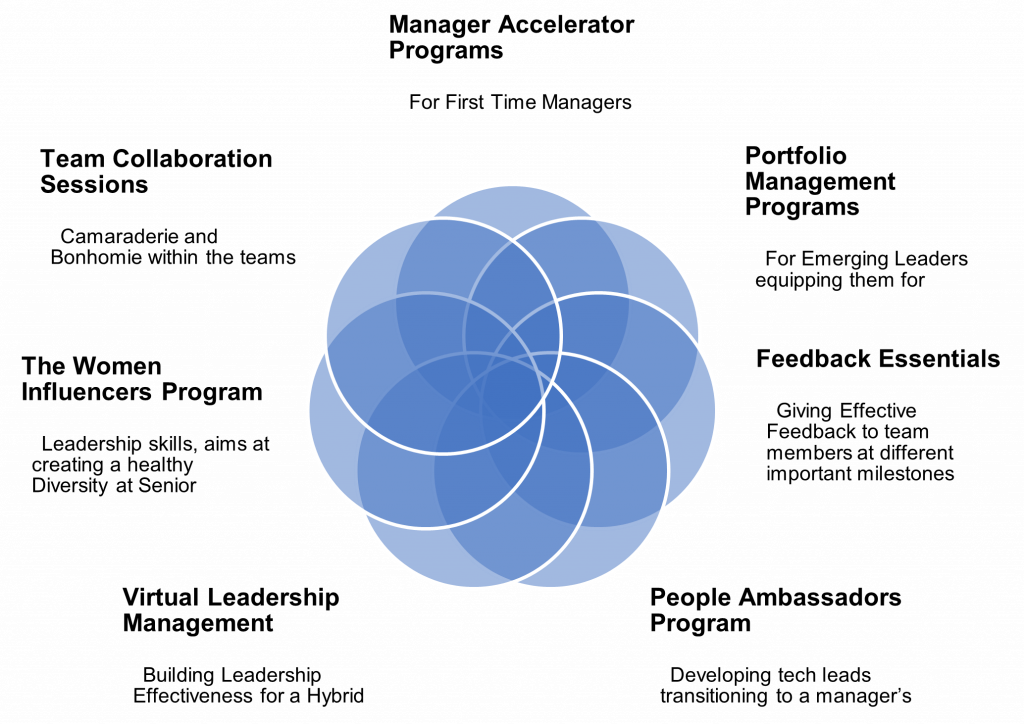 The benefits from these progressive and inclusive programs can be seen:

To understand the role & job satisfaction of the employees after promotions, the 'Career Advancement Survey' is conducted annually – this year it covered 700 promoted employees. Based on the feedback, the Career Core team (L&D and HR) works in tandem with the Delivery team and helps create action plans to help employees build their careers further.
Journey with Great Place To Work
Great Place To Work® has been partnering with GlobalLogic in their culture journey since 2015. GlobalLogic has been recognized among India's Top 25 Best Workplaces™in IT & IT-BPM 2022. The Trust Index™ Grand Mean of the organization has seen a significant improvement of 15% since 2020, with maximum increases on aspects of Fairness & Respect at the workplace – including impartiality showcased by managers, management reliability, right hiring & fitment, candid communication, demonstrated care and appreciation by management.
The commitment of the organization to its managerial development did not faze during the pandemic year of 2020, when GlobalLogic conducted the first phase of its People Managerial Capability Development program with Great Place To Work Close to 80 managers embarked on their journey of building High Trust High Performance teams through a 5-month intervention – comprising a structured workshop followed by creation and implementation of over 250 initiatives by the participants.
The focus areas included listening, caring, developing, and appreciating their teams. The intervention concluded with a measurement of impact based on feedback from teams of the managers who have undergone the program and a panel of the Business & HR leaders in the organization, followed by recognition and certification of successful managers. "The next phase of the intervention has been rolled out in 2022 where the focus is on `Developing Leaders of the Future' in a fast growth and elevated environment", says Rajesh Rai, Vice President- People Development, GlobalLogic. "GlobalLogic has always believed in growing its talent from within and giving our employees a platform to not only grow vertically but horizontally and in diverse ways. For our people, GlobalLogic has always been a place to build careers and that is why right from the middle management to the senior leadership levels, myriad interventions help our managers and leaders remain ahead of the curve. Our culture of agility, innovation and care ensures our people grow as the organization grows – we focus on impact and not spans, on nodes in a human network and not on hierarchies to deliver that impact. With these solid cultural principles, it's always heartening to see how all of this translates into high engagement of our people, much above the market benchmarks, eventually building a high performance 'People First' workplace."
GlobalLogic Academies
An Academy in GlobalLogic is a structured, long-term, community-driven, on-the-job learning program which enables organic growth of talent with a fast-track career progression model. The design & learning structure is an immersive learning experience, with high involvement & interactivity in an adaptive environment, using agile, scalable, and innovative models. Employees can explore the individual academy as each of these academies have their own learning feature.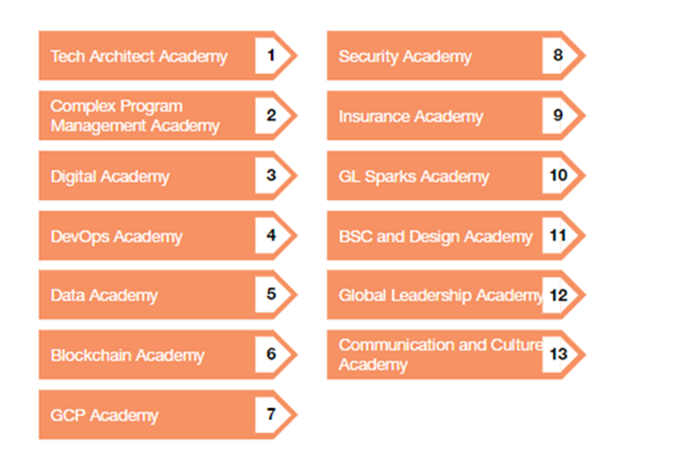 Curated course content, formalized processes and frameworks.
150+ graduates per semester, 800+ associates trained per year.
Two semesters every year – Spring (starts Apr) and Fall (Starts Oct).
Selection based on performance and learning ability.
Global Programs with a global audience and outlook – Online, Classroom, Assignment, Evaluation based curriculum.
Badging and recognition of graduates.
Standard process, enrolment, selection, graduation.
Mature Partner Ecosystem (external) as they scale up.
Putting People First
A platform of GlobalLogic Citizens Club (GLCC) by and for the people has been established. Here the elected Members (chosen based on employee votes) get a unique opportunity to be the voice of GlobalLogic. The GLCC members are employee champions and represent people of GlobalLogic in important organizational matters, participation in leadership meetings based on focus areas/recommendations, policy changes, critical initiatives, decisions, policy implementations, location level decisions and more.
Culture of Gratitude & Appreciation
GlobalLogic has a 360-degree recognition platform called as "Kudos Recognition Drive" which offers a wide variety of recognition anchors. Post Covid, Kudos has been gamified and gone virtual on their internal platform called GLO – Thank You, Cheers to Peers, You Make a Difference, Walk the Talk, Pat on the Back, Rockstar Rookie. Employees achieving a milestone of Kudos in numbers are given a badge based on the counts of Kudos received – Silver, Gold, Diamond, and Platinum.
2022 saw over 2 lakhs of KUDOS exchanged among employees!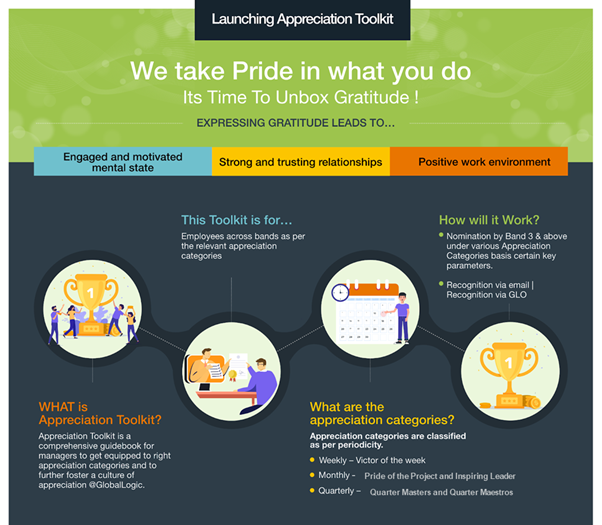 "Each employee gets recognized even for the smallest achievement related to a task or work at the management level and even at the internal team level." – a young employee at GlobalLogic
An open, caring, and inclusive workplace culture
The icing on the cake is how the Employee Activity Club ensures fun at work while they learn and grow. The enthusiastic club volunteers are always game to engage, energize and entertain the employees. Around the year, there are theme parties, festival celebrations, talent events inviting individuals & their extended family members to enjoy and unwind. A highly inclusive team values the uniqueness of every individual. GlobalLogic has an integrated workforce of specially abled individuals, people from various ethnicities and races coming together to celebrate their passion and ideas. A transparent, collaborative, and supportive work environment helps bring the best ideas to the table.
Life at GlobalLogic is a mix of exceptional work, continuous learning and engaged workforce! One GlobalLogic family united by passion, trust, and empathy for each other.