The saying "home is where the heart is" has a timeless truth to it to the folks at United Way Mumbai, resonating beyond the walls of their personal abodes and into the world of NGOs. United Way Mumbai is a non-profit organization working in urban and rural communities across India to identify and implement the most impactful solutions to community problems. As a leader in the Indian development sector, United Way Mumbai works closely with a network of 500+ NGOs and many corporates for their CSR programmes, employee giving campaigns and community impact projects. Their mission centres on the idea that we all rise or fall together. Their aim is to unite different groups like nonprofits, Companies, individuals, and the government to work together to improve the community. As they champion for the rights of the marginalized, advocate for equality and justice, and speak of the virtues of inclusion, it's vital to recognize that through these principles they find resonance within the realm of their professional endeavours, guiding them to shape inclusive and empowering work cultures.
George Aikara, the CEO of United Way Mumbai, believes that commitment to these values starts from within, just as a welcoming home. In the context of the workplace, this translates to nurturing an environment that champions the rights of all employees, regardless of their backgrounds or positions. The marginalized, the poor, and the vulnerable should find their voices amplified within the organization, much like the residents of a loving home find solace and support.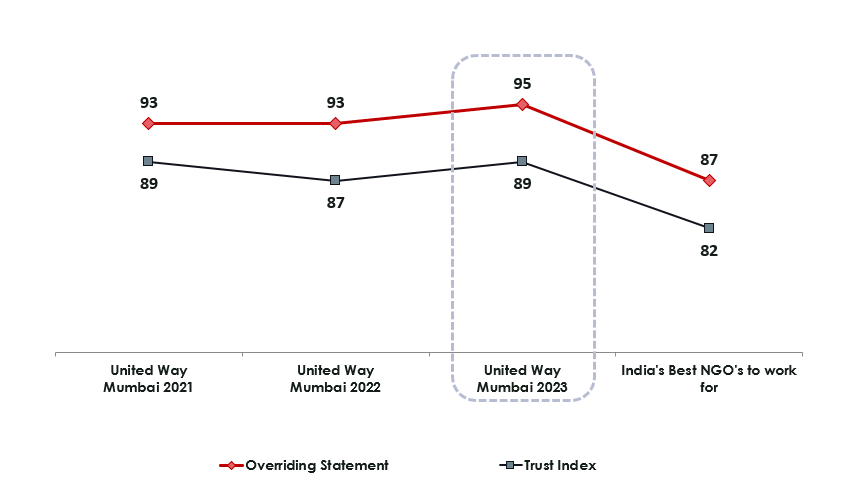 Living United through a High Trust Culture and Inclusivity
95% of the employees endorses United Way Mumbai as a Great Place to Work!
Based on the image provided above, it's evident that United Way Mumbai has been consistently working towards improvement year after year, surpassing even India's top-rated NGOs in terms of workplace excellence. Among the five dimensions assessed, Fairness stands out as a notable strength for them, setting them apart from other organizations.
Employee express: "UWM is a fair and just organisation, there is no place for favouritism or biases and people are recognised on merit."

Their team hosts regular sensitization sessions led by expert NGOs, addressing crucial topics like women's rights, disabilities, LGBTQIA rights, and Adivasi community challenges. Facilitated by both external experts and their internal members, these sessions promote open dialogue, uncover unconscious biases, and foster solidarity, transforming them into effective allies.
In a progressive step taken a few years ago, United Way Mumbai undertook a deliberate initiative to encompass same-sex partners within their insurance policy. This endeavour posed a notable challenge due to the prevailing absence of such provisions among insurance providers, and the associated options turned out to be pricier than the previous ones. Despite the financial considerations, the organization steadfastly pursued this course of action, ultimately succeeding in expanding their insurance coverage to include same-sex partners.
United Way Mumbai has recently been recognized as India's Best Workplace™ for Women 2023. Their success is rooted in a commitment to fairness with respect to promotions, performance evaluations, and involving women in decision-making. They provide ample career growth opportunities and genuinely care about their employees. This accolade reaffirms their dedication to gender equality and empowerment.
Living United as Family, led by synergistic leaders!
The concept of the Great Place To Work® Trust Index™ Survey, often seen as a reflection of the collective experiences of the workforce, like how a well-knit family influences the ambience of United Way Mumbai. This influence, however, extends beyond the organization itself. As leaders in the NGO sector, they serve as torchbearers, guiding smaller organizations in their sphere to follow suit. Their behaviours, choices, and conduct act as beacons, signalling the desired way forward and the values that should be upheld.
Employee express: "The senior team at UWM is very mature and inspirational. From a leadership perspective, they bring stability, ambition and strong people and rights orientation."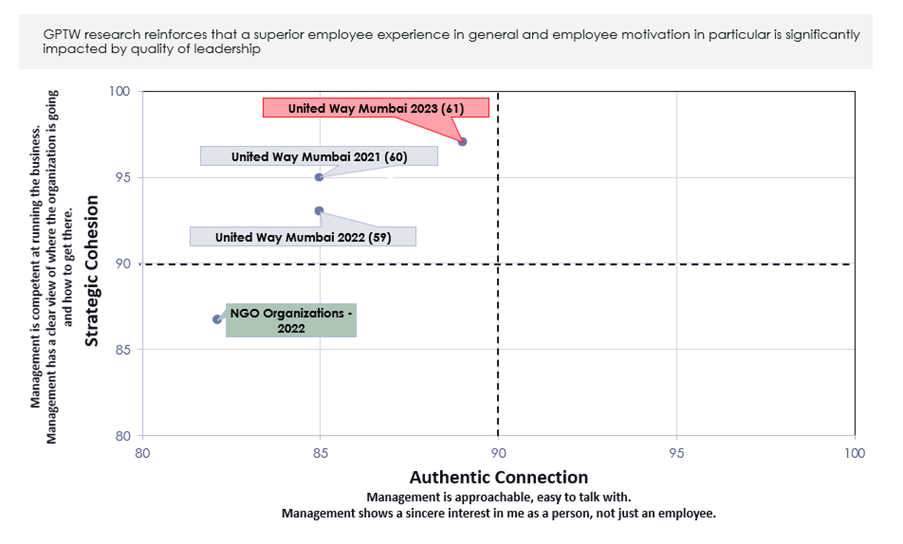 Employee express: "I have come across no other organization that has such a positive, open, and fair environment. The culture is carefully nurtured to be this way. The senior team is highly approachable – sometimes surprisingly so. Anyone in the organization – even the junior most or newest person – can walk into the CEOs office and share views and concerns. There seems to be a genuine interest in driving a culture of excellence and ambition towards our collective goals, whilst ensuring we are a fun, nurturing environment".
George also emphasis on how it's essential to remember that this blending is a constant evolution. In the realm of work culture, every addition to the team introduces a new facet of diversity, just like how every family member brings a unique perspective to a household. This interplay of cultures continually shapes the evolving culture of the organization. Even when individuals move on, the culture they helped cultivate remains, much like a legacy that endures within the organization's DNA.
NGOs are placed among the lowest for Leadership Effectiveness, but this is another area where the Leaders at United Way Mumbai have been consistently doing well. Their vision and commitment to sharing their knowledge is a quality that would elevate them and set them apart from other NGOs.
Employee express: "Even though, over the years UWM has grown and become one of the experts in the fields we work on, we have never lost or felt a change in the connection we have with the communities we work with or for".
Ultimately, the pursuit of a great workplace transcends material comforts. It's about creating an atmosphere where every individual feels a sense of belonging, much like the emotional connection we have with our homes. The unity of diverse cultures, much like the unity of family members, fuels innovation, understanding, and collaboration.
Living United by inculcating a sense of Purpose and Growth within the team!

Employee express: "I like that this is a people centric organisation – be it the community we serve or the employees that work on projects. Everyone's welfare is kept into consideration. Also, like that you are given a chance to be heard and that your opinions matter".
In conclusion, United Way Mumbai's dedication to fostering an inclusive and empowering work culture mirrors the essence of a welcoming home, where everyone's voice matters. Through their commitment to social justice, diversity, and knowledge-sharing, they illuminate a path for both their organization and the broader NGO community to follow. United Way Mumbai exemplifies how the principles of inclusivity, unity, and continual evolution can transform a workplace into a dynamic and inspiring environment where innovation and collaboration thrive, echoing the sentiment that "home is where the heart is."